GeolOil - Free download petrophysics well log analysis software
GeolOil petrophysics runs on Windows PC, MacOS, and Linux. We recommend to install Java from Long Term Service LTS Latest Downloads, or Java SE Archive Downloads, all from official Oracle Distributions.
    Trial class licenses for evaluation. General download    
You may choose to download a free license, or a 2 to 8 weeks term paid license. Your installation is guaranteed or your money is back.
Model
Term
Price
No water marks &
commercial use
Free
∞

Install now!


-
Editor
2 weeks
Only $58  
 
Short trial
Full
Best seller



8 weeks
Only $188  
 
Best value:
+
Bundled with the learn set

✔ No hidden charges or auto-renew.
• Prices and term policy can change at any time.
✔ No PayPal account? Checkout as a guest
✔  You can work with your own real data and LAS files. Not a fixed, sample pre-built database.
✔ However, these lightweight licenses are not renewable. Once expired, you may buy an affordable regular license model from $49/month.
✔  Only paid licenses are not water-marked, and can be lawfully used for commercial projects.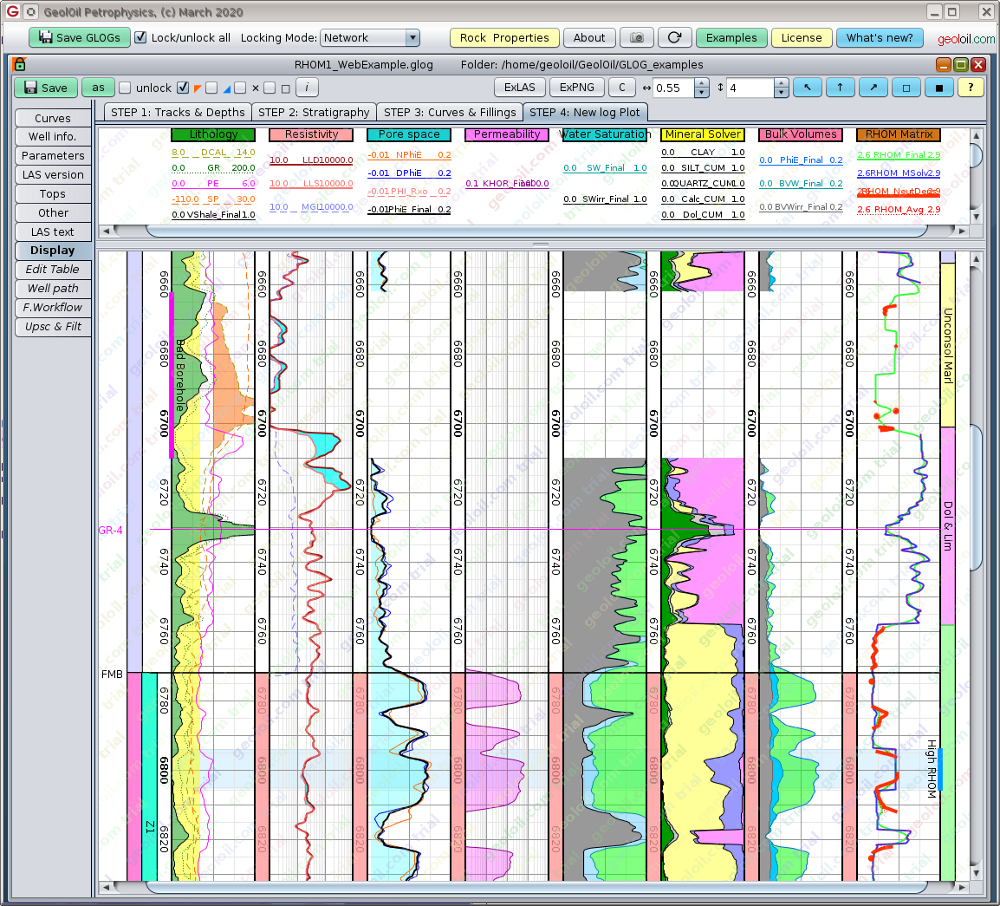 Screen-shot of a free license with watermarks

NOTE: The GLOG file work-flow for this log is also available for download with the learn set
Features of LAS well log modules
| | | | | |
| --- | --- | --- | --- | --- |
| No. | Well log Feature | Free | Editor | Full |
| 1. | Lawful Commercial Use | - | | |
| 2. | No Log Plot Watermarks | - | | |
| 3. | Saving & Exporting Files | - | | |
| 4. | Loading & Importing Files | | | |
| 5. | Edit LAS files, add & remove curves | | | |
| 6. | Re-sample LAS files resolution | | | |
| 7. | Merge LAS files and curves | | | |
| 8. | Table view, editing & shifting | | | |
| 9. | Define Tracks with curves | | | |
| 10. | Define well stratigraphy | | | |
| 11. | Display log curves and fillings | | | |
| 12. | Filter & export log curves to Excel | | | |
| 13. | Petrophysical functions & equations | | - | |
| 14. | Water Analysis & Ionic mEq balance | | - | |
| 15. | GLS Scripting & Type equations | | - | |
| 16. | Mineral Solvers | | - | |
| 17. | Porosity and Water Sat. Upscaling | | - | |
| 18. | NetPay, NetSand, Hydroc. column | | - | |