GeolOil petrophysics runs on Windows PC, MacOS, and Linux. As minimum it requires Java-8/x64-bits. However, we recommend official Oracle Java-17 SE.

Don't hesitate to run GeolOil on Java-8 64 bits. If you have other software that uses it, keep it for maximum compatibility.
    Trial class licenses for evaluation. General download    
You may choose one trial class license. Just select a 1, 3, or 6 weeks term. Your installation is guaranteed or your money is back.
  1 week. Only $28  
 
Short trial
  3 weeks. Only $58  
 
Good deal
  6 weeks + learn set. Only $88  
 
Best value bundle

✔ No hidden charges or auto-renew. License expires



✔ No PayPal account? Checkout as a guest
✔  These class of licenses have all the features of our regular licenses:
Work with your own real data and LAS files. Not a fixed, sample pre-built database.




You have full access to all four GeolOil petrophysics modules: LAS Editor, Curves Displayer, Petrophysical Functions, and Log Upscaler.




You can save all your work as GeolOil formatted G-LOGTM files. That means that when you switch to a regular license, you will continue to use all the work done, curve editions, depth re-sampling, LAS file merges, templates, display plots, stratigraphy, petrophysical computations, log upscalings, and more.




You can load and edit any GLOG files made by other users and examples, not only yours.
✔ However, these lightweight licenses have restrictions:
Trial class licenses are not renewable. Once expired, the user may buy either a one time only 3 months, or 1 year license, or any regular license.




The curve plots are water marked discretely. Trial licenses are not aimed for commercial use, but for testing and evaluation purposes.
The image below ↓ shows an actual screen-shot of a trial license with watermarks, just to avoid commercial use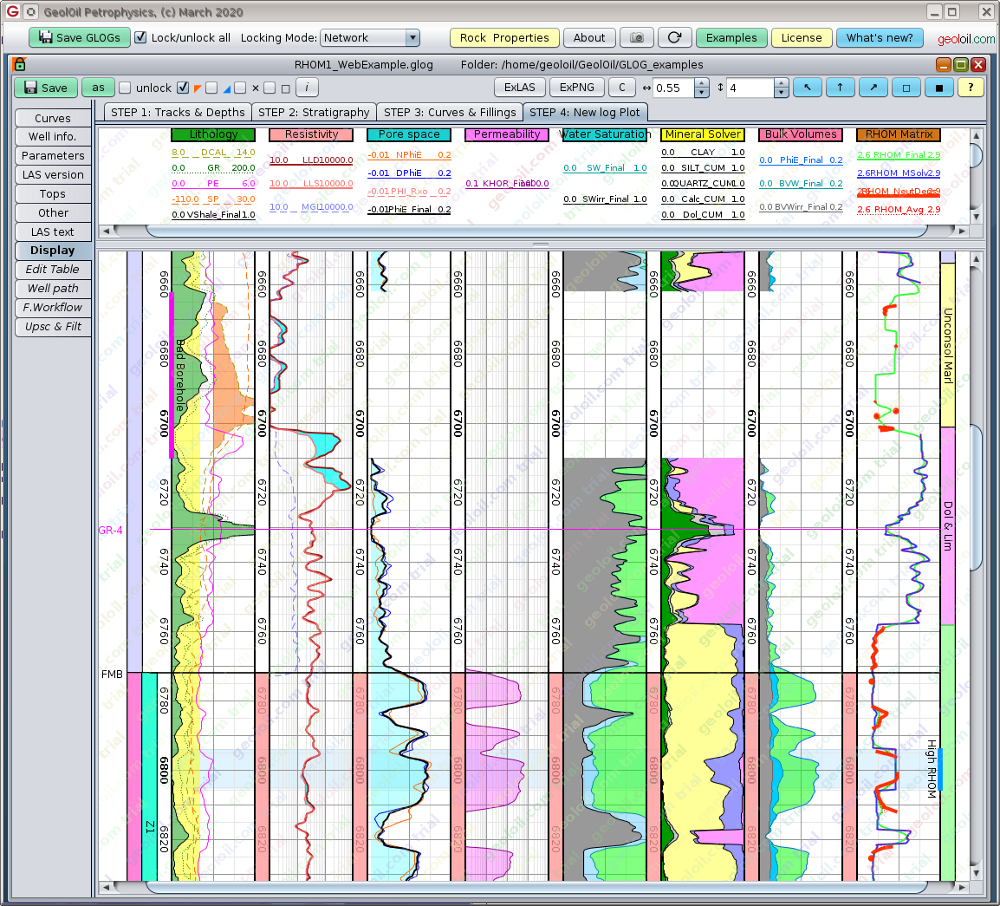 ✔
NOTE:
The GLOG file work-flow for this log above ↑ is also available for download with the optional interpretation learn set
.
Features of LAS well log modules
| | | | | | |
| --- | --- | --- | --- | --- | --- |
| No. | LAS log Feature | LAS Editor | +Displayer | +Functions | +Upscaler |
| 1. | Edit LAS files, add & remove curves | | | | |
| 2. | Re-sample LAS files resolution | | | | |
| 3. | Merge LAS files and curves | | | | |
| 4. | Table view, editing & shifting | | | | |
| 5. | Define Tracks with curves | - | | | |
| 6. | Define well stratigraphy | - | | | |
| 7. | Display log curves and fillings | - | | | |
| 8. | Petrophysical functions & equations | - | - | | |
| 9. | Water Analysis & Ionic mEq balance | - | - | | |
| 10. | Type equations & Stream Scripting | - | - | | |
| 11. | Mineral Solvers | - | - | | |
| 12. | Porosity and Water Sat. Upscaling | - | - | - | |
| 13. | NetPay, NetSand, Hydroc. column | - | - | - | |
| 14. | Rw by Hingle method | - | - | - | |