GeolOil - Download petrophysics well log analysis software
GeolOil petrophysics runs on Windows PC, MacOS, and Linux. We recommend to install Java-17 from Long Term Service LTS Downloads, or Java SE Archive Downloads, all from official Oracle Distributions.
    Trial class licenses for evaluation. General download    
You may choose to download a trial license from 2 weeks to 2 months. Your installation is guaranteed or your money is back.
Model
Term
Price
No water marks &
commercial use
Editor
2 weeks
Only $58  
 
Short trial
-
Full
Best seller



2 months
Only $188  
 
Best value:
+
Bundled with the learn set

✔ No hidden charges or auto-renew.
• Prices and term policy can change at any time.
✔ No PayPal account? Checkout as a guest
✔  You can work with your own real data and LAS files. Not a fixed, sample pre-built database.
✔ However, these lightweight licenses are not renewable. Once expired, you may buy an affordable regular license model from $49/month.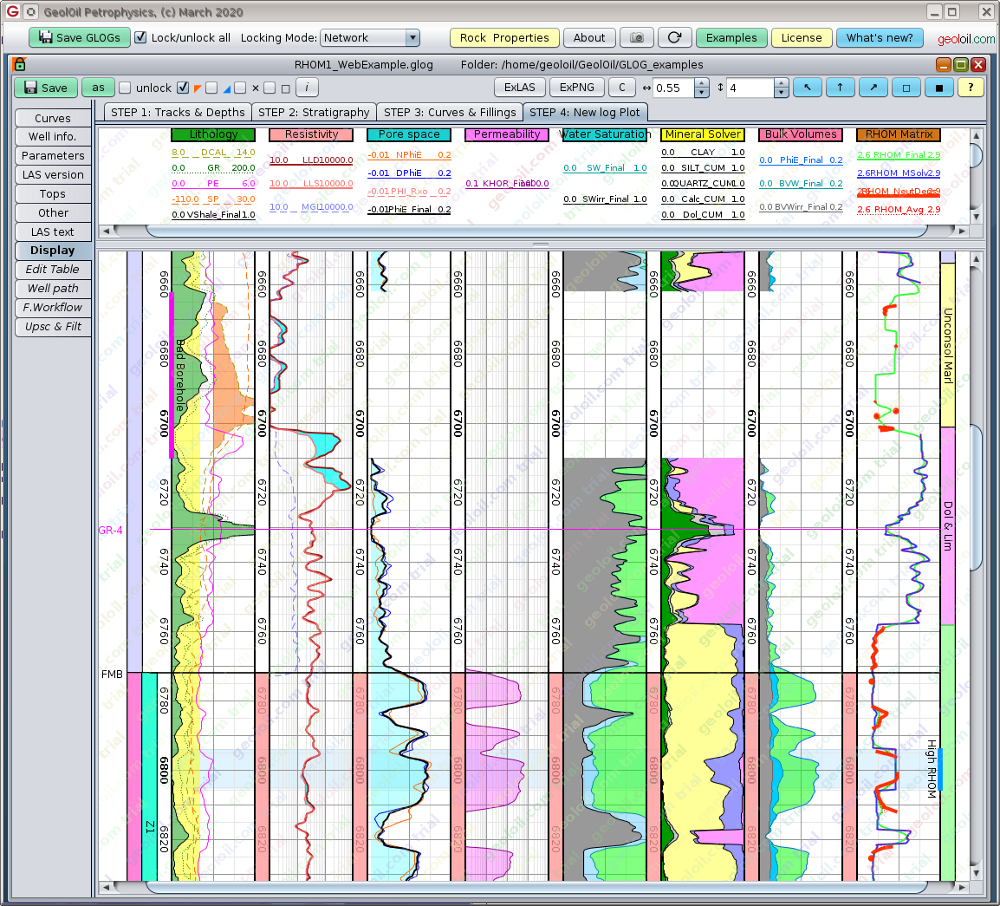 Screen-shot of a 2 weeks trial license with watermarks

NOTE: The GLOG file work-flow for this log is also available for download with the learn set
Features of LAS well log modules
| | | | |
| --- | --- | --- | --- |
| No. | Well log Feature | Editor | Full |
| 1. | Lawful Commercial Use | | |
| 2. | No Log Plot Watermarks | | |
| 3. | Saving & Exporting Files | | |
| 4. | Loading & Importing Files | | |
| 5. | Edit LAS files, add & remove curves | | |
| 6. | Re-sample LAS files resolution | | |
| 7. | Merge LAS files and curves | | |
| 8. | Table view, editing & shifting | | |
| 9. | Define Tracks with curves | | |
| 10. | Define well stratigraphy | | |
| 11. | Display log curves and fillings | | |
| 12. | Filter & export log curves to Excel | | |
| 13. | View Raster Well Logs TIFF & images | | |
| 14. | Petrophysical functions & equations | - | |
| 15. | Water Analysis & Ionic mEq balance | - | |
| 16. | GLS Scripting & Type equations | - | |
| 17. | Mineral Solvers | - | |
| 18. | Porosity and Water Sat. Upscaling | - | |
| 19. | NetPay, NetSand, Hydroc. column | - | |