GeolOil petrophysics runs on Windows PC, MacOS, and Linux. As minimum it requires Java-8/x64-bits. However, we recommend official Oracle Java-16 SE or newer.

Don't hesitate to run GeolOil on Java-8 64 bits. If you have other software that uses it, keep it for maximum compatibility.
NOTE: Java-7 and older versions are not supported. Just upgrade to Java-16 or at least to Java-8/x64-bits.


    Trial class licenses for evaluation. General download    
You may choose one trial class license, of 1-6 weeks term. Instructions for download and installation are given once your request is approved, or immediately after your payment is received. Your installation is guaranteed or your money is back.
Download now

  1 week. Free  
 
Install a short trial
  3 weeks. Only $58  
 
Good deal
  6 weeks + learn set. Only $88  
 
Best value bundle

✔ No hidden charges or auto-renew. License expires



✔ No PayPal account? Checkout as a guest
✔  These class of licenses have all the features of our regular licenses:
Work with your own real data and LAS files. Not a fixed, sample pre-built database.




You have full access to all four GeolOil petrophysics modules: LAS Editor, Curves Displayer, Petrophysical Functions, and Log Upscaler.




You can save all your work as GeolOil formatted G-LOGTM files. That means that when you switch to a regular license, you will continue to use all the work done, curve editions, depth re-sampling, LAS file merges, templates, display plots, stratigraphy, petrophysical computations, log upscalings, and more.




You can load and edit any GLOG files made by other users and examples, not only yours.
✔ However, these lightweight licenses have restrictions:
Trial class licenses are not renewable. Once expired, the user may buy either a one time only 3 months, or 1 year license, or any regular license.




The curve plots are water marked discretely. Trial licenses are not aimed for commercial use, but for testing and evaluation purposes.
The image below ↓ shows an actual screen-shot of a trial license with watermarks, just to avoid commercial use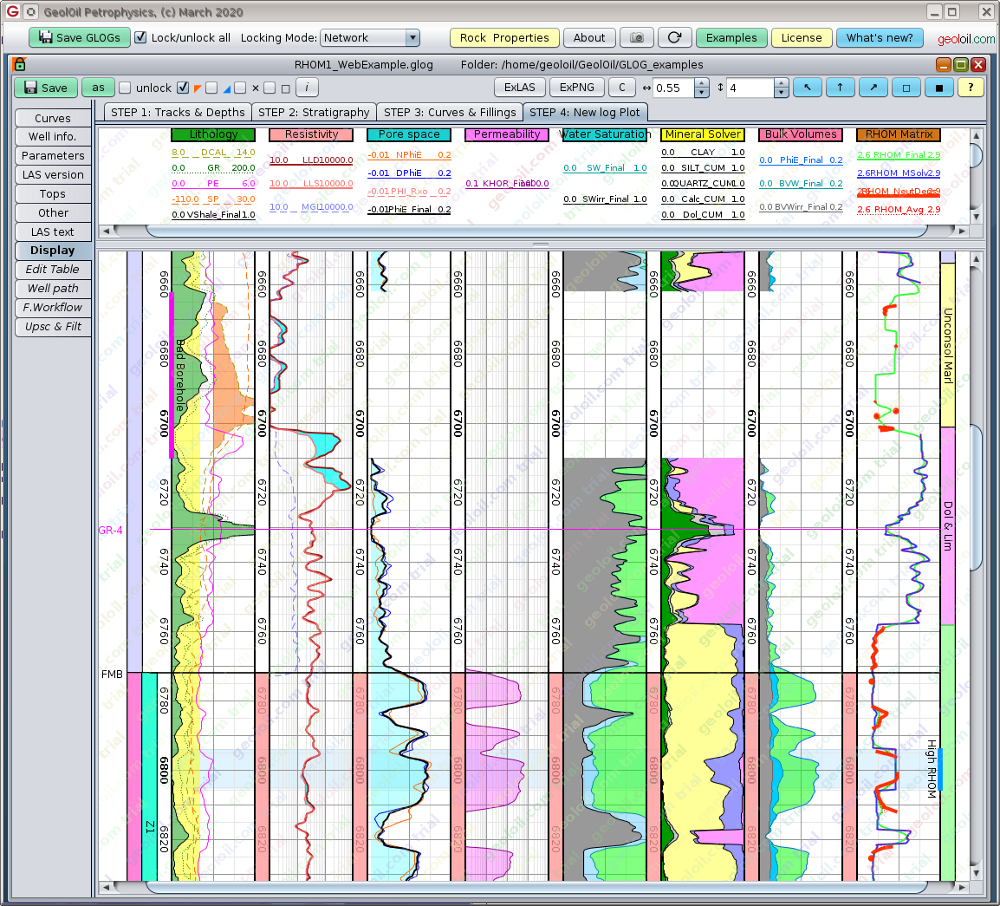 ✔
NOTE:
The GLOG file work-flow for this log above ↑ is also available for download with the optional interpretation learn set
.
Features of LAS well log modules
| | | | | | |
| --- | --- | --- | --- | --- | --- |
| No. | LAS log Feature | LAS Editor | +Displayer | +Functions | +Upscaler |
| 1. | Edit LAS files, add & remove curves | | | | |
| 2. | Re-sample LAS files resolution | | | | |
| 3. | Merge LAS files and curves | | | | |
| 4. | Table view, editing & shifting | | | | |
| 5. | Define Tracks with curves | - | | | |
| 6. | Define well stratigraphy | - | | | |
| 7. | Display log curves and fillings | - | | | |
| 8. | Petrophysical functions & equations | - | - | | |
| 9. | Water Analysis & Ionic mEq balance | - | - | | |
| 10. | Type equations & Stream Scripting | - | - | | |
| 11. | Mineral Solvers | - | - | | |
| 12. | Porosity and Water Sat. Upscaling | - | - | - | |
| 13. | NetPay, NetSand, Hydroc. column | - | - | - | |
| 14. | Rw by Hingle method | - | - | - | |