Install or update Java-14. As minimum, you will need Java-8/x64-bits to run GeolOil.



You may have Java-14 or Java-8 already installed. If you have Java-8, just verify if it is x64 bits. If that is your case, continue to Step-2. Otherwise install it from official Oracle Java-SE Java-14.



Java-7 and older versions are not supported. Just upgrade to Java-14, or as minimum to Java-8/x64-bits.






Download the GeolOil Installer.





You need to download and install GeolOil for each user account running the physical machine. Click below to download and save. Then, open and run the downloaded executable installer JAR file from the operating system —usually with double-click—. If there are some issues, try with different browsers, like Edge, Internet Explorer, Chrome, FireFox, and Safari.




DOWNLOAD GeolOil    (All platforms)




Run GeolOil. If you have acquired any non trial license, send us the displayed license serial for its activation.





Click on the upper-right License button. Take a snapshot to the opened window, and email us the grabbed image to activate the license serial. If the email bounces when sending the image attached, just send a plain text email with your license serial typed by hand. Once we received your license serial, we will activate it within 2-5 business days. Trial licenses don't require serial activation, they are alive by default and run out of the box.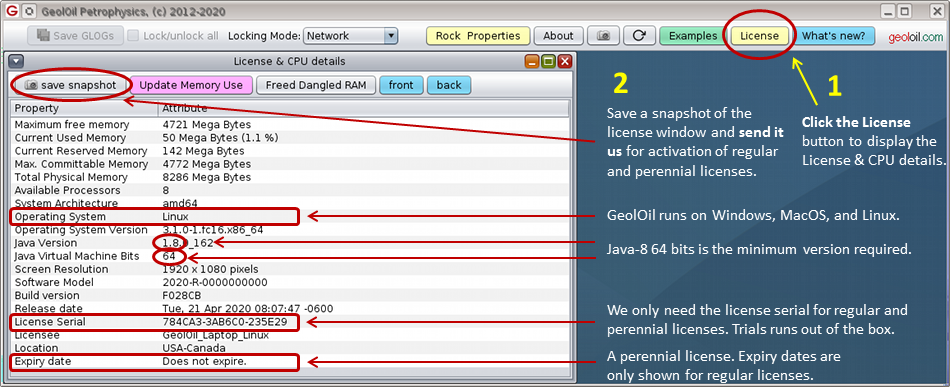 Upgrading your license
Any time you upgrade your license, a six steps procedure must be followed to get your new license specifications. The most common case occurs when an user started with a trial license and decides to acquire a regular license. In other cases the user decides to acquire a perennial license or more modules. Some GeolOil upgrading and updating services may run silently on background when the machine enters on idle time. Please follow these steps to upgrade your license:
Send us your license serial after your payment is completed.

Unless your payment included a text message with the license serial to activate (recommended), you must send us your full license serial window (CPU/License button) for its activation via email (preferred), the contact form, or even a phone text message if really needed. We will then prepare your license within 2-5 business days and email you when your license is ready. We recommend to white-list on your email system all incoming emails from geoloil.com.


Close all GeolOil licenses. There is no need to reboot your machine.


Open one GeolOil license, then do nothing for 5-15 minutes

Once your computer enters in idle time, it will try to connect silently with a geoloil server and pull out your new upgrade.


Close your license. There is no need to reboot your machine.

If the server connection was successful, the upgrade should be ready to run the next time you open GeolOil.


Open again your license. Click the CPU/License button and verify that everything is OK.


Send us your license serial window again. We need to verify that your upgrade was successful or fix potential issues.
Updating your license
If your license purchase includes maintenance (all lease licenses, and those perennial licenses that paid for maintenance), it will auto-update & auto-install itself silently and automatically. Then the software update will be available for the next work session (similar as the Windows Operating System does)
If you prefer to enforce a software update manually (if at lease one is available), follow the Steps 2-5 detailed in the Upgrading your license section.
Installing GeolOil over strict Firewall Network Environments
Some large national oil companies have very strict firewall network practices that block many ports, sockets, connections, and unknown servers. During installation, GeolOil exchanges tiny pieces of information between your machine and our servers. Probably some blockage could break down the installation process. You may need to ask the system administrator to allow communications with GeolOil fixed IP address.
Instead of adding exceptions or risky openings to the firewall, we recommend this procedure to install your GeolOil license:
Physically disconnect the machine to the company internet firewall network.




Temporarily connect the machine to other unfirewalled regular wired or wireless Internet Service Provider (ISP). Even a modest portable cell phone Tethering or HotSpot connection could work.




Install Java and GeolOil normally. Run GeolOil and send us your license serial.




Re-connect your machine to the original company internet firewall network. Probably GeolOil would now work, and perhaps be even capable to use the GeolOil auto-update service through the firewall.




If everything fails, your last hope may be, is to purchase a GeolOil perennial license. These are the only type of licenses able to work 100% standalone without any type of internet connections.
Installing GeolOil over picky Virus Software
All GeolOil JAR files are digitally signed through DigiCert Certification Authority. However some anti-virus software (like Norton), fail to check java .jar file signatures (they may only check .exe, *.xlsx, and *.docx executable files), and quarantines GeolOil as an unknown software. In those cases, just add an exception to the anti-virus software to allow GeolOil installation. No worries.