A mineral solver is an algorithm that tries to find the proportions of already assumed minerals present in the rock. Several mathematical methods have been tried historically, from linear system of equations, to artificially trained neural networks, and even empirical heuristic approaches. Linear system solvers require a set of good quality log curves, and not too many minerals to solve, otherwise the problem would be mathematically undetermined. Mineral solvers offer only a coarse guide to understand the rock composition. Nothing replaces the experience of qualified geologists and petrophysicists.
The GeolOil Petrophysical Functions module has mineral solvers for carbonate systems with limestones, dolomites, anhydrites, and halite salts (NaCl). GeolOil also solves clean eolian systems with sandstones and dolomites.
The figure below shows the GeolOil mineral solvers panel to compute the proportion of dolomites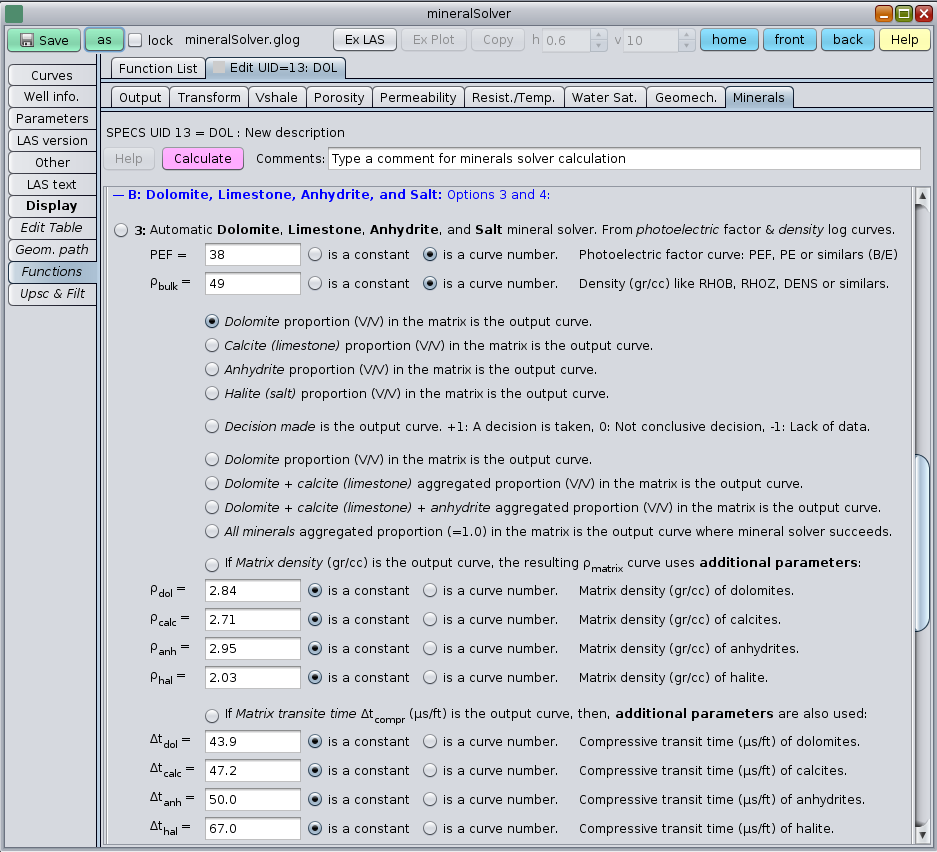 No mineral solver is perfect. Curves may be noisy, unreliable, and even if the log curves are perfect, many other not considered minerals might be present. In the well log plot shown below from a Montana carbonate reservoir, GeolOil achieved very good results computing the mineral proportions of limestone, dolomite, anhydrite, and salt.
The rightmost thin bar, with colors grey (anhydrite), light green (limestone, and salt), and dark green (shaly dolomite), is the interpretation manually made by an experienced geologist already familiarized with the depositional environment. The Minerals track on the right, shows the result of the mineral proportions solved by GeolOil from the PEFZ photoelectric factor, and RHOZ bulk density curves. The pink are filling represents the proportion of dolomite, indigo-blue represents the proportion of limestone, orange the proportion of anhydrite, green the proportion of salt, and blank white represents the zones for which GeolOil could not find a stable or reliable solution. Notice that there are blends limestones and dolomites, and the overall match is good.
The figure below shows a well log plot result of a mineral solver for limestone, dolomite, anhydrite, and salt

Another mineral solver shipped with the GeolOil Petrophysical Functions module is a Quartz-Dolomite solver for eolian environments. It is particularly useful to estimate the matrix density for partial blends of quartz and dolomites:
The figure below shows the mineral solver panel for a sandstone-dolomite eolian environment to compute matrix density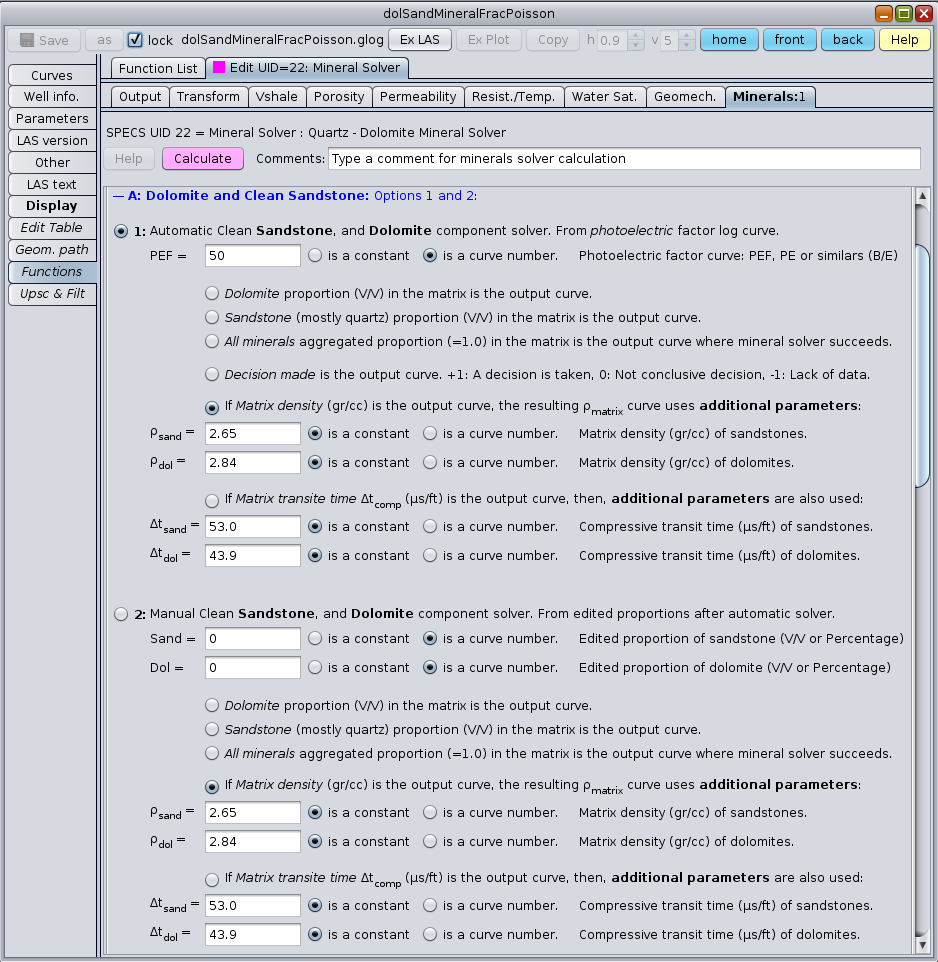 The figure below shows a mineral solved log plot for a sandstone-dolomite eolian environment