GeolOil (pronounced geo-loil) is a software and consulting company specialized in petrophysics, and 2D-3D oil & gas reservoir modeling for conventional and un-conventional reservoirs. Our affordable software has an intuitive graphical user interface, easy to use, with readable bold buttons and plenty of options.
What's new? Our latest stable version: November 2023
GeolOil runs on Windows, MacOS, and Linux. Compare it to Schlumberger's TechLog
2023 August: "I've been impressed by the programme, and it works for my purposes on my small laptop."
Michael McCaughey.
Senior GeoScientist,
ELGOL Geoscience.
Director. Twyford, England, UK.∎
---
2023 February: "I was a Geolog user for many years so I know it pretty well. Geoloil is really good, it just takes a while to get used to like any software."
Sheldon Murphy.
Senior Petrophysics Consultant. Epoch Geologic, LLC. Pittsburgh, Pennsylvania, USA.∎
---
2023 January: "GeolOil is a very versatile and flexible software that can proudly compete with much larger competitors. I use GeolOil for Well Integrity analysis, using caliper logs as input. I would recommend GeolOil to anyone that needs to analyse logs..."
Read more
.
Enis Aliko.
Senior Drilling Engineer.
Wellynx Engineering.
Pescara, Italy.∎
---
2022 April: "I'm a huge fan of GeolOil. It is user friendly, the help buttons are awesome, the videos are an excellent resource. Some of the stuff sort of comes naturally to me as I've used several types of software throughout my career in the O&G. Overall, this software is GREAT!"
Hailey Smith.
Texas A&M University
, USA.∎
---
2021 August: "I am sincerely grateful that GeolOil is at my fingertips."
Matthew Gerard.
Expert Petrophysicist Consultant with 35 years of experience, Texas, USA.∎
---
2021 March: "I must say, the GeolOil software has been an absolute god send to me as it's enabled me to pick up extra work, work from home, and be self sufficient, so I greatly appreciate the support and the program."
Joel Corcoran.
Senior Geoscientist. Consultant, England, UK.∎
---
2020 May: "I do enjoy the detailed workflow for determining various attributes".
Jason Currie. PG., MS.
CEO and President of Point Bar Energy LLC, Oklahoma City, OK. USA.∎
---
2019 September: "I have been using GeolOil for over 5 years. It is a great tool for doing petrophysical analysis with the ability to do several complex work-flows in a sequential format that is easy to setup and runs very quickly. The log displays are very good and it is easy to edit, shift, manipulate, and manage log curves..."
Read more
.
Brian Black.
Owner and Geologist. Black Petroleum Resources, LLC. Utah, USA.∎
---
2017 June: "GeolOil has been great so far. I was glad to have found a package that runs fine on MacOS. I haven't yet fully utilized a lot of the software's capabilities, but I have uploaded tons of LAS files from a prior petrophysical analysis. It is easy to learn the basics and display the data in a visually impactful way"
Read more
.
Michael Putnam.
Independent Geoscientist. Texas, USA.∎
---
2016 March: "GeolOil hits home on major areas that I look for in good software: 1) Platform independence. I use GeolOil in both MacOS, Windows and Linux, and have no issues. 2) The graphical interface and user experience truly is elegant. It is very easy to navigate, has natural flow, and good typesetting. I felt comfortable in the package less than ten minutes from when I first installed. The "major" commercial packages don't even compare or come close to ease of use or graphic design... "
Read more
.
Evan Patrick Egenolf.
Assistant Research Scientist.
University of Wyoming
, Laramie, Wyoming, USA.∎
---
2015 October: "GeolOil is a versatile and intuitive tool for characterizing and analyzing geologic data. I have used it to input large amounts of stratigraphic data, and the program easily defines markers, formations, zones, and multiple sub-zones..."
Read more
.
Chris Peterson.
Senior Geologist. Magellan Petroleum Corporation, Colorado, USA.∎
---
2015 February: "We have been using GeolOil since 2011. This package captures key geological settings of the reservoir. We have imported its results into the simulators Eclipse, Tempest-More, and CMG-STARS with the highest quality. ..."
Read more
.
Mahmood Ahmadi, PhD.
Vice-President of
MI3 Petroleum Engineering
, Colorado, USA.∎
---
2014 July: "I have been using the
LAS Displayer
module of GeolOil for some months now. It has added tremendous value to my daily work because it allows a quick and neat access to critical petrophysical data, so I can devote more time analyzing information and making decisions regarding the reservoir simulation models I'm building. ..."
Read more
.
Hector Wills, PhD.
Former Adjunct faculty PE Department.
Colorado School of Mines
, Colorado, USA.∎
---
2013 July: "I would also like to say that this program is amazing. I spent full days looking for a
LAS reader
and GeolOil prevailed with a truly outstanding product."
Marden Wark. Petroleum Geoscientist.
NSW Government,
Department of Trade and Investment
, Australia.∎

Our article How to calculate Petrophysicals Cutoffs has inspired or influenced the year 2019 multi-national European Patent EP 31752674 A4 20180418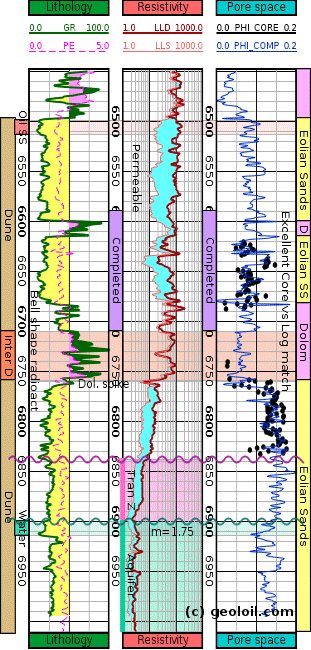 A well log interpreted and displayed on GeolOil
Our user friendly LAS well logs reader, viewer, and editor, allows to plot log curves immediately, achieving a top quality display. Our multi-well work-flow of sequential petrophysical functions computations approach, allows to immediately change any parameter (constant or a curve), and update all the petrophysical analysis interpretation to be re-computed with a single click. Our log upscaler computes net-pay, petrophysical cutoffs, water saturation, and more.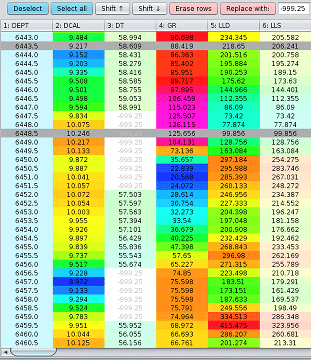 GeolOil fully featured LAS editor
GeolOil is a stable, finely-tuned large software package with 157,225 lines of source code in 189 classes designed to run seamlessly on the platforms Windows PC, Apple MacOS Macintosh, and Linux. Download it today!.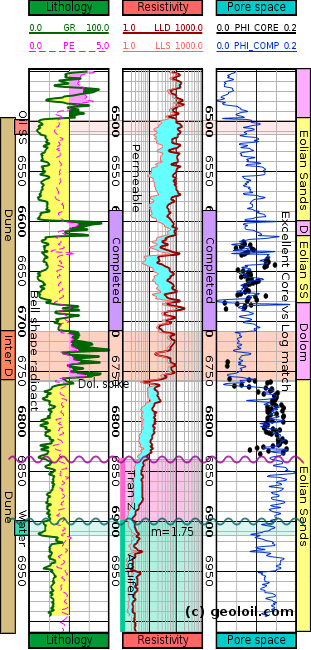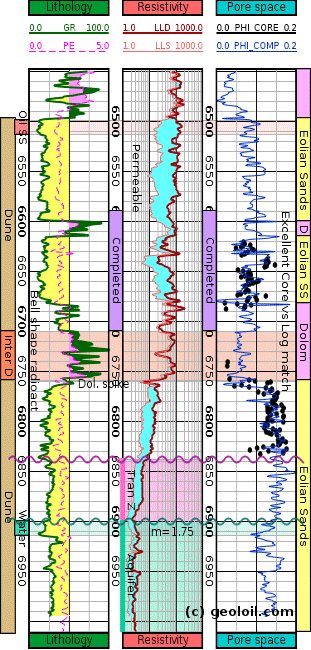 GeolOil LLC
6959 Isabell St.
Arvada, CO 80007. USA