Our user friendly LAS well logs reader, editor, viewer and plotter provides a quick and easy, yet powerful tool to open, visualize, change curve values, and plot well log petrophysics data. Get industry standard displays of your .las format files columns immediately.
You do not have to be an expert petrophysicist or geologist to produce professional displays of your logs. You can visualize and edit all the curves section, define tracks and fillings, parameters, well identification and other information. A handy Table View feature that helps to identify extreme data values and outliers.
Immediately view what curves are available in the LAS file and freely rename or edit their mnemonics, units and descriptions. The curves panel also shows Import and Export curve buttons to merge curves from dissimilar LAS file sources with different depth steps. The user also has handy buttons that allow to shift curves upwards or downwards, necessary to match core data with log data.
The figure below shows the Curves Section panel editor.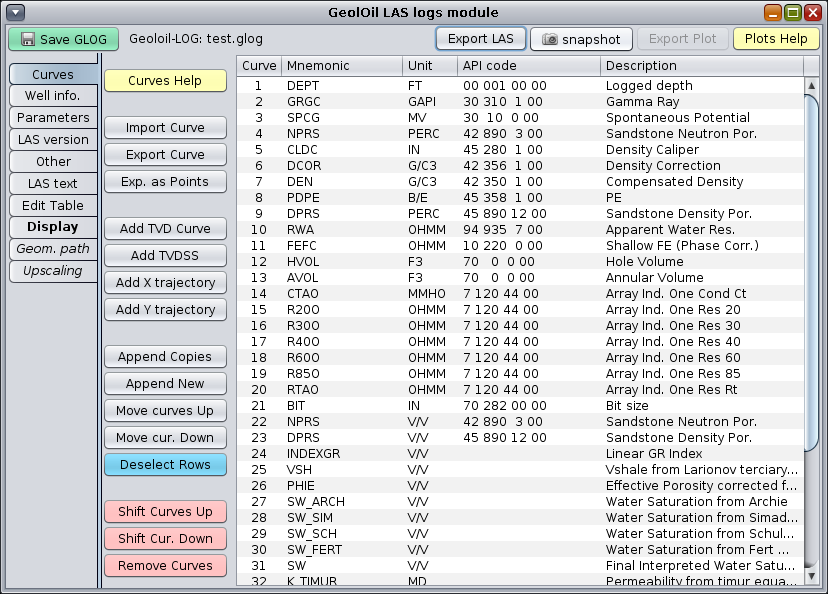 Get an immediate GeolOil's exclusive tabular view display and edit any well log data values with our non linear adaptive contrasty colors technology tabular display view. Identify trends and curve magnitudes easily.
The figure below shows the GeolOil exclusive adaptive colors table viewer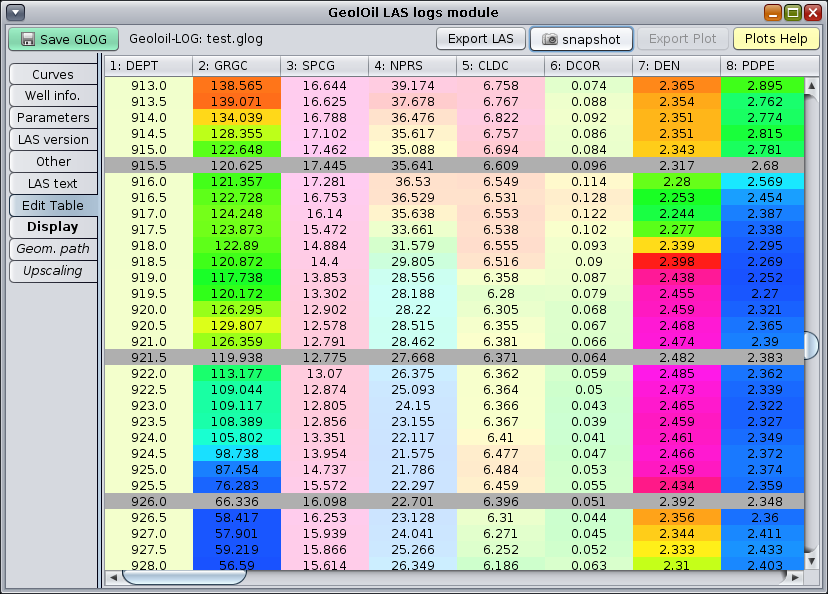 GeolOil stratigraphy panel allows to define and color shade stratigraphic and sedimentary data like formations, members, beds, markers, facies, flow units, and vertical layering layout easily. Completed well intervals can be also defined.
The figure below shows the GeolOil stratigraphy panel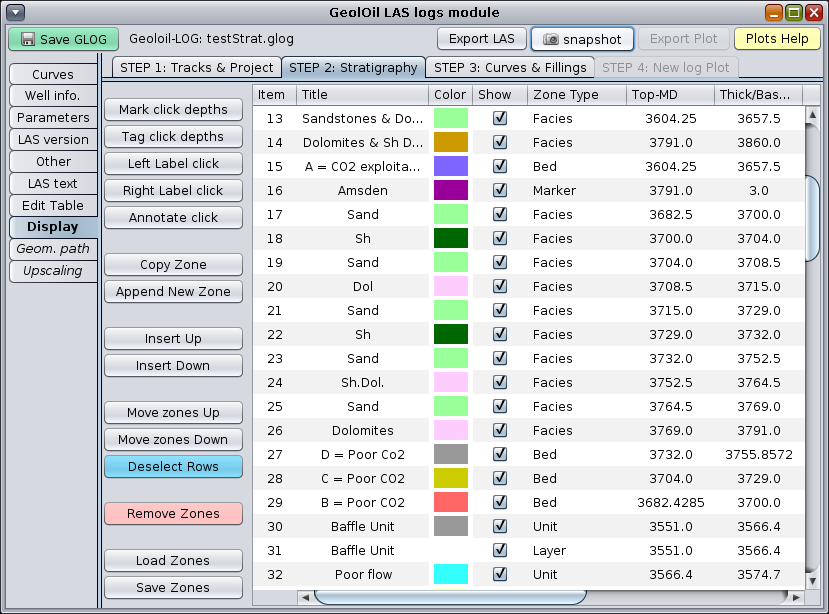 Once you define what tracks you want, select the curves that goes into them, to get a pristine quality display plot. You can apply threshold fillings to highlight sand beds, shale bodies, pay zones, and curve crossings like neutron and density porosity to identify gas pockets.
The figure below shows a log plot with stratigraphy and core data.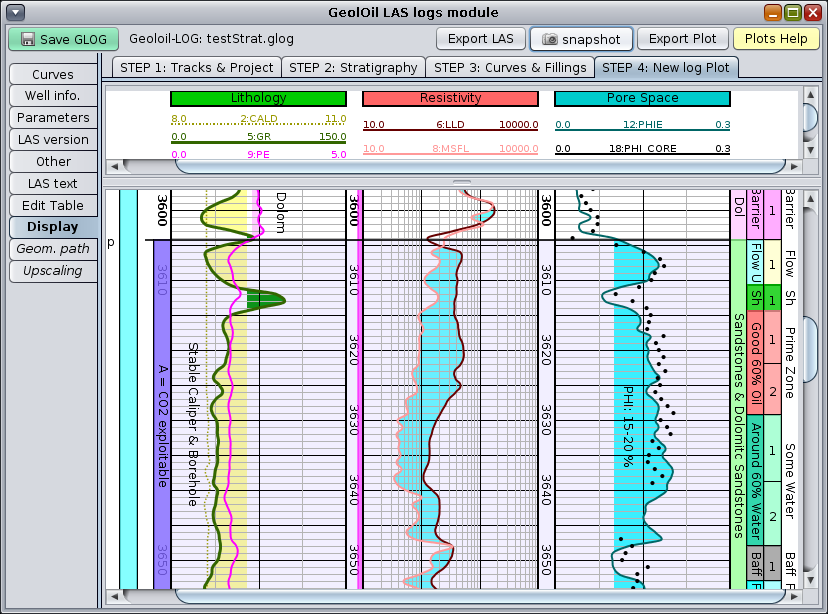 Features of LAS well logs module editions
| | | | | | |
| --- | --- | --- | --- | --- | --- |
| No. | LAS log Feature | LAS Editor | +Displayer | +Functions | +Upscaler |
| 1. | Edit LAS files, add & remove curves | | | | |
| 2. | Re-sample LAS files resolution | | | | |
| 3. | Merge LAS files and curves | | | | |
| 4. | Table view, editing & shifting | | | | |
| 5. | Define Tracks with curves | - | | | |
| 6. | Define well stratigraphy | - | | | |
| 7. | Display log curves and fillings | - | | | |
| 8. | Petrophysical functions & equations | - | - | | |
| 9. | Water Analysis & Ionic mEq balance | - | - | | |
| 10. | Type equations & Stream Scripting | - | - | | |
| 11. | Mineral Solvers | - | - | | |
| 12. | Porosity and Water Sat. Upscaling | - | - | - | |
| 13. | NetPay, NetSand, Hydroc. column | - | - | - | |
| 14. | Rw by Hingle method | - | - | - | |