Some times you would like to use freely available software tools to estimate geomechanical properties from logs. Even when you have access to pricey geomechanics software applications, you may want to compare, validate or even make modifications to the original models and equations, instead of blindly rely on a black-box software package.
Other times, you would like to know in detail what equations and assumptions were made to compute geomechanical properties, use your own formulae, correlations, empirical adjustments ideas, calibrations with core data, or even use different published models not yet implemented in other commercial packages.
To implement your own algorithms, you either write a custom and indeed very complex Excel spreadsheet, or you can use the freely available GLS GeolOil Logging Scripting to do the task.
The simple GLS scripting programming language, allows you to code exactly what you need. It automatically takes care of missed -999.25 values, as well as append and save your new derived curves into a new LAS well log file.
The example source code showed below, is basic reference script to compute standard geomechanical properties from logs, using well known equations and popular correlations: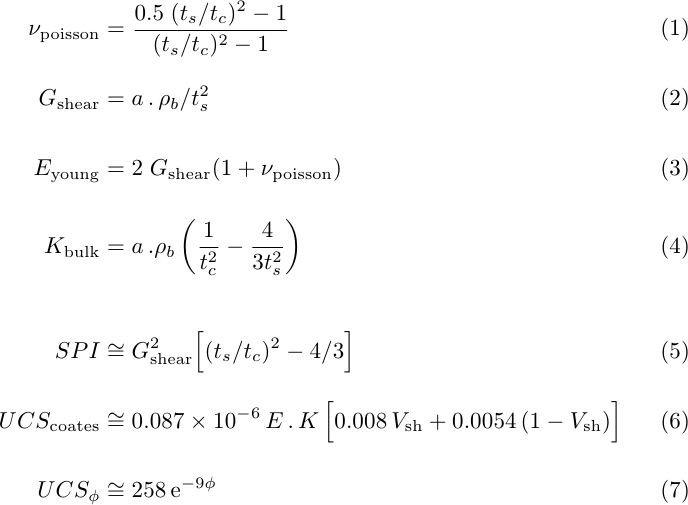 You are welcome to freely use the script below for your work, even for commercial projects. But please refer you used, or adapted the script from www.geoloil.com, giving us fair credits. You don't need to type the code, as it comes shipped with your license into its built-in data-set "GeolOil_DB".
The code example shown below, runs straight forward "out of the box". On a typical Windows installation just follow: [File] -> [Open_GLS_Script] -> [Open] -> [UserHomeDir] -> [GeolOil_DB] -> [GLS_examples] -> [geomechanics_example.gls] -> [Run]. The script will create a .LAS file called geomechanics_properties.las
Please note that normally, dynamic properties estimated from logs, are very different from static geomechanical properties actually measured from core plugs. The user must be aware of it, and use only the derived curves as a guide or trends needing major calibrations with lab and empirical data. Furthermore, the demo log data provided refers to a Canadian shallow reservoir, in metric units (converted to USA field units).